Not every hip hop producer can make beats with booming studio monitors all the time. Perhaps you need to be mindful of neighbours, like to make beats on the move or prefer to undertake certain processes in solitude, such as chopping samples. Anyway, given that many people use headphones as their primary music source, it's recommended that you test your output on all kinds of hardware, including headphones, so you can tweak your mix accordingly.
So why use professional studio headphones over consumer headphones such as Beats or Airpods? Professional studio headphones are designed to have a flat frequency response, meaning they do not accentuate certain frequencies. This is important, as you need an output that matches your input as closely as possible. Otherwise your project may, for example, end up with a feeble bass across different speakers and headphones, as the headphones you were using for your mix-down misleadingly exaggerated the low frequencies.
This article will help you find the best, affordable headphones for your production requirements, whether you're making anything from boom-bap, to trap, to future beats.
Best headphones for hip hop production – Overview
The following headphones cater for a range of budgets and requirements:
This list was compiled by assessing over 50 reviews of studio headphones, focused on quality, comfort, price and suitability for hip hop beat-making.
Best headphones for hip hop production – Detailed
1. Beyerdynamic DT 1770 Pro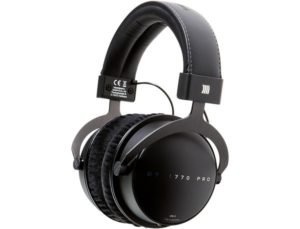 Why?
Excellent sound quality – including in the low frequencies

Very high detail across the frequency range

Impressive sound stage

Frequency response of 5Hz to 40,000Hz
Beyerdynamic have been making headphones that are trusted by producers for decades. The DT 1770 Pros in particular can be found in professional studios everywhere – the phrase 'German engineering' definitely springs to mind to describe these headphones.
The bass, all important for hip hop production, is extremely punchy and detailed. If your beats tend to include sub bass at very low frequencies, these headphones are definitely up for the task. The mids and highs are also very crisp and detailed, and together produce a well-balanced sound. When compared to other headphones however, it's the low frequencies that really sets these headphones apart.
Another strength of the DT 1770s is the sound stage, i.e. the replication of width, depth and height of the sound output. Open-back headphones are naturally better at producing naturally staged sound, but the DT 1770s – closed-back headphones – are known for their wide sound stage and imaging. It's worth noting, if you intend to use your headphones around others or in public spaces, closed-back over-the-ear headphones are your best bet.
Across most critic and user reviews, the Beyerdynamic DT 1770s are found to be comfortable with large pads and a well-padded headband, although some users have critiqued that they are a little heavy and clamp to your head a little too much. Comfort is very subjective – everyone has a slightly different experience.
Who has been seen using Beyerdynamic headphones?
Kenny Beats

Pretty Lights

XXXTENTACION

Gramatik
2. Audio-Technica ATH-M50x
Why?
Accurate response across low, mid and high frequencies

High quality build, durable and comfortable

Frequency response of 15Hz to 28,000Hz
You may recognise the Audio-Technica ATH-M50xs; they're famous among producers, DJs and even regular consumers. As critically acclaimed headphones, creme de la creme producers such as Timbaland and Madlib have been spotted using the ATH-M50xs.
These closed-back headphones produce a generally neutral sound across their 15Hz – 28kHz spectrum. Importantly, the bass sounds great – it's deep and rich sounding, allowing you to polish your lower frequencies during track mixing. Some critics have found the bass to be a little over-emphasised, but as there's great width and sound separation, this doesn't detract too much from the rest of the sound. Like the DT1770s, these Audio-Technica headphones have an impressive sound stage and imaging for closed-back headphones.
The ATH-M50xs are comfortable despite their large size, and there's general consensus among users that they can be worn for a long-period without discomfort. Plus with a collapsible design and detachable cables, they're suitable for travelling producers or those who dabble in DJing as well.
Who has been seen using Audio-Technica ATH-MX50x headphones?
Timbaland

Madlib

Drake

Tom Misch

Rick Rubin

Nas
3. Pioneer HRM-7
Why?
Highly detailed sound

Lightweight and comfortable

Frequency response of 5Hz to 40,000Hz
Pioneer is a much-esteemed manufacturer in the DJ world, and they're also adept at creating high quality headphones for the studio. The Pioneer HRM-7s produce a natural, flat sound all the way up the frequency spectrum.
The sound reproduction is highly detailed in the low and mid frequencies, which will allow you to hone in on your mix, especially if your monitors are budget or simply do not perform at lower frequencies. Equally the higher frequencies are clear and crisp – the HRM-7s have a range up to 40,000Hz. If you like bright tones to really shine in your beats (for instance with emphasis on hi hats or cymbals), these headphones will help you achieve this.
The headband is adjustable, the ear pads are topped with soft velour fabric and overall the headphones are relatively lightweight for their size, making them ideal for long studio sessions.
Who has been seen using Pioneer headphones?
4. Sony MDR7506 Professional
Why?
Detailed and natural sounding

Repairable, designed for long-term usage

Frequency response of 10Hz to 20,000Hz
The Sony MDR7506s are a solid option and are typically at a lower price point than other headphones on this list. They may not have the sonic range of higher-end options, but the accuracy, detail and neutrality of the output is of the high quality you come to expect from Sony. In particular, the mid frequencies are clean and impressively natural. Going below 100Hz, the MDR7506s do not perform as well as the rest of the headphones in this article, so may not be ideal for mixing 808s or sub bass.
Unlike other headphones on this list, the cable on the MDR7506s is not detachable, however, the offer a foldable design and are lightweight, making them ideal for travelling producers. One criticism is that the design can feel a little flimsy making them slightly more susceptible to damage and less durable than other headphones, although it's easy to find spare parts and repair the MDR7506s. On the whole they offer excellent value for money when compared to other studio headphones at a similar price point.
Who has been seen using Sony MDR7506 headphones?
Pete Rock

Zaytoven

Childish Gambino

Mac Miller

Future
5. Sennheiser HD 660 S
Why?
Exceptional build quality and sound

Open-back headphones with wide, expansive soundstage

Sleek design and extremely comfortable

Frequency response of 10Hz to 41,000Hz
At the high end of this list, these Sennheiser headphones are ideal for more experienced producers. The 660 S is the latest model in this iconic Sennheiser range, so has a lot to live up to – they definitely do not disappoint.
The 660 Ss are open-backed headphones with an excellent soundstage, offering a wide, expansive sound and superb stereo imaging. Across the frequency spectrum the sound reproduction is neutral, balanced and incredibly detailed. The low and mid frequencies are rich, clean and natural, with the lows in particular extremely detailed.
Retaining the classical design of it's predecessors, the 660 Ss are open-backed meaning you can see the drivers mountings through the outer case. This does also mean sound will freely leak out, so if you're after headphones that you can double-up to use in public, these are probably not your best option. If, however, you just want headphones for home studio use, the Sennheiser HD 660 Ss offer extreme comfort and impressive sonic output.
Who uses the Sennheiser headphones?
Not yet invested in good quality studio monitors? Or need an upgrade? Check out our guide on the best, affordable studio monitors for producing hip hop.
Do I need studio headphones?
There are several reasons why studio headphones might be a good option for you. First, most people have housemates or neighbours to consider and it's not practical to use studio monitors throughout the day or night. On the flip-side, external noise from housemates or neighbours can be an interference and you need to cut out external noise as much as possible.
If you plan to record audio in your studio such as vocals, you need a good pair of studio monitors so that the artist can listen to what's already been recorded as they perform. Studio monitors are not ideal for this as the recording device would pick up noise and disrupt the recording. Studio headphones can also be extremely useful during the mixing process – they allow you to hone in on small details in your mix and listen to audio without environmental interference that monitors are often subject to, particularly at high volumes. A track can sound completely different through headphones compared to monitors, so it's a good idea to use both in tandem to truly understand how your mix sounds.
Finally, headphones are lightweight and portable. If you're a producer who likes to or would like to get creative when out and about, a pair of cans give you the flexibility to do this.
What is the difference between studio headphones and regular headphones?
Regular headphones are designed for an enjoyable listening experience. They sometimes add tones, gloss over imperfections or boost the low-frequencies. On the other hand, studio headphones are designed for an honest listening experience – they aim to output a flat frequency response, i.e. no frequencies or frequency bands are intentionally emphasised or attenuated. As a producer, you need to hear audio exactly as it is recorded so that you can make adjustments, remove unwanted sounds and create a track exactly as you intended. For this reason, studio headphones also tend to have a wider frequency range than regular headphones to help you hear audio at the extreme low of high frequencies that regular headphones tend to cut out.
Can I use regular headphones in my studio?
For the reasons discussed above, using regular headphones in your studio is limiting. However, they can definitely be handy for quickly recording rough ideas, arranging a song structure or any input that does not require high precision. They can also be useful for checking finished mixes or masters to understand how a track sounds on different output devices. For anything that requires accuracy, you'll want to use a quality pair of studio monitors or studio headphones.
What's the difference between closed-back and open-back headphones?
Closed-back headphones are when the ear cups are completely closed at the back. They do not leak background noise, making them suited to recording or listening in noisy environments where isolation is crucial. The disadvantage of closed-back headphones is that pressure can build up inside the headphones causing emphasis of low frequencies and general distortions.
Open-back headphones are when the ear cups are open, allowing sound to flow in and out. This often makes them more adept for mixing, with an airy, natural sound that helps you hear the separation between instruments across the frequency range. However, open-back headphones are not designed to offer noise cancellation so they're not suitable for many environments.
*As an Amazon Associate I earn from qualifying purchases.