As a hip hop producer, studio monitors are one of the key investments you'll make. It's vital you choose monitors that accurately represent your input, output the subtle details in your sounds, and importantly for hip hop music, pack a high quality low-end to achieve a thumping bass.
But with so many different types of monitors, so many brands and features, it can be difficult to decide on studio monitors that are suitable for you and your budget. To cut through the noise, I've collated the best studio monitors on the market for making hip hop beats, by analysing over 40 reviews from leading review sites and the hip hop community.
Best studio monitors for hip hop production – Overview
| | | | |
| --- | --- | --- | --- |
| | | | |
| | | | |
| | | | |
| | | | |
| | | | |
| | | | |
For information on what qualities you should look for when buying studio monitors, skip to the end of this article.
Best studio monitors for hip hop production – Detailed
1. KRK Rokit RP5 G4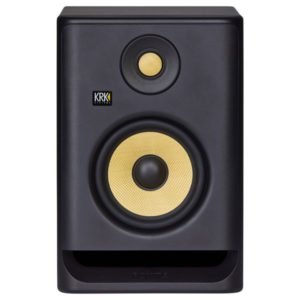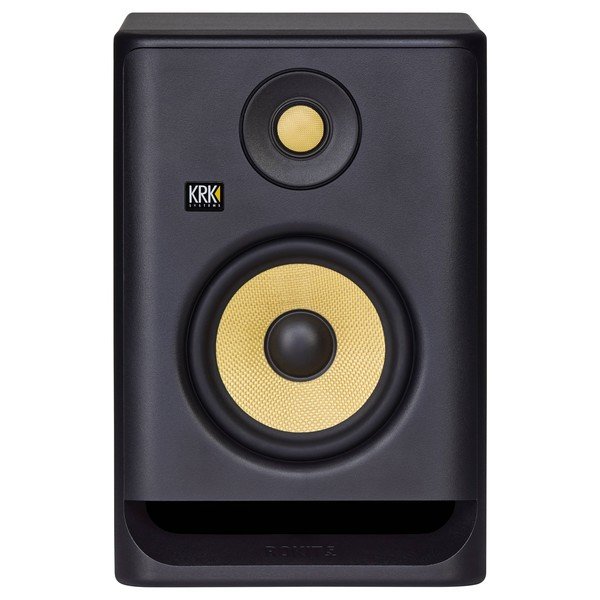 Probably the most recognisable monitor in the world and a staple of home studios – and for good reason. The KRK Rokit RP5 G4 provides exceptional sound quality at a mid-range price, providing serious bang for your buck.
Even at the 5" size, the G4 has great bass extension, as Rokits are renowned for, making it an ideal monitor for mixing hip hop bass. And compared to previous models, the G4 has a flatter sound, enhanced tuning options and an accompanying app to help even novices setup their monitors. As we've discussed in other articles such as our KRK Rokit vs Yamaha HS comparison, some find that the low-end is a little too amplified, but this does mean you can quite effectively double up your Rokits as DJ monitors.
I could've picked any one of the monitors from the KRK Rokit range for this list, but I chose the smallest monitor of the latest G4 range. However, if your budget allows you, the larger 7", 8" and 10" G4s enable even better quality and dynamic range, and equally the earlier G3 range is legendary among music producers.
Who has been spotted using KRK Rokits?
Lunice

Chief Keef

KAYTRANADA

Rick Ross

Onra

JetsonMade
2. Yamaha HS8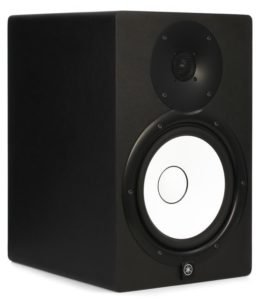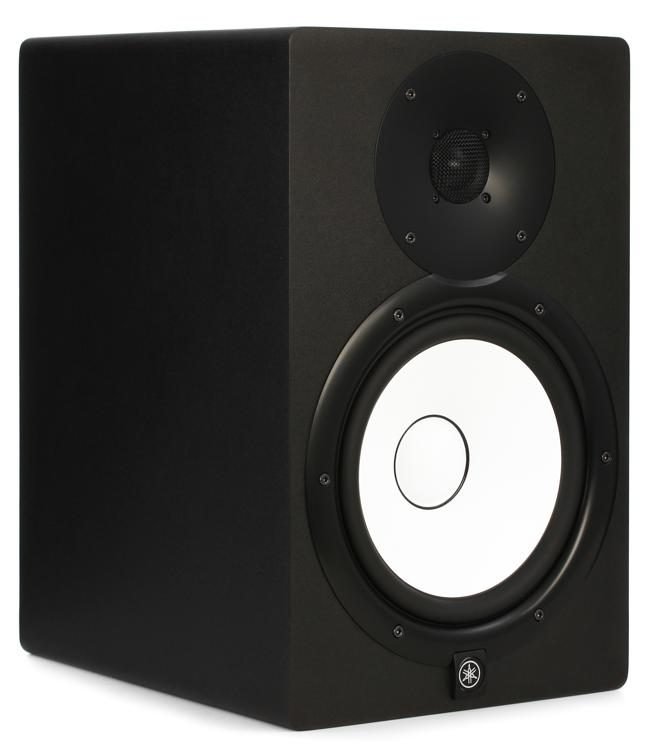 If you want to go bigger, the Yamaha HS8 is a smart choice for mixing and mastering hip hop. Yamaha produces some of the most esteemed music hardware, so it's no surprise that the HS8 is one of the best affordable monitors out there. In terms of achieving a flat response, i.e. an honest sound, the Yamaha HS8 is second to none in the category of affordable studio monitors.
The HS8 yields a powerful sound with its 8" subwoofer and 1" tweeter, with impressive frequency range coverage and sound isolation so you can perfect your mix. If you'd prefer to spend less and buy a smaller monitor, the Yamaha HS5 is also an excellent option, although it's low-end doesn't produce the same punch.
Who has been spotted using the Yamaha HS8s?
Metro Boomin

Joey Bada$$

Mike WILL Made-it

London On Da Track

Big Sean

Sam Gellaitry
3. JBL LSR305P MKII
Across the board, this monitor from JBL has very positive reviews from critics and users alike. This is due to the LSR305P's clean, detailed sound and affordability. Using an advanced technology called Image Control Waveguard, this speaker produces highly detailed sound, a rich low-end and very little distortion.
If you want to go bigger for an even better low frequency sound reproduction, the LSR308 (8" woofer instead of 5") is also an exceptional monitor.
Who has been spotted using JBL LSR speakers?
Logic

Snoop Dogg

Pretty Lights
4. Adam Audio A7X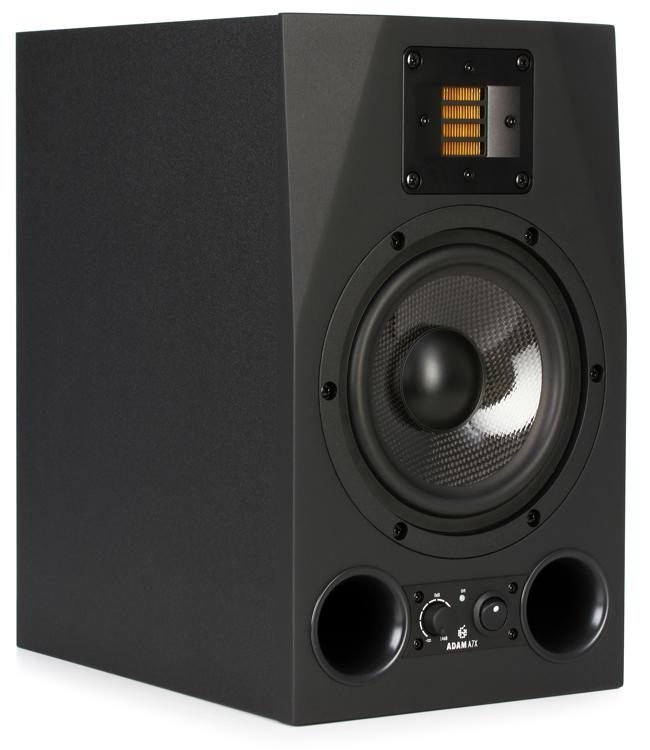 The Adam Audio A7X is an award-winning studio monitor and a very popular option with hip hop producer who have a slightly larger budget. It has excellent performance across the frequency spectrum, with a more refined sound than the previous model.
This advanced monitor has a powerful 7" subwoofer, a wide frequency range and extremely high detail so you can address any imperfections in your mix, no matter how small.
Who has been spotted using Adam Audio A7X monitors?
Shigeto

Bonobo

Mike Shinoda
5. M-Audio BX5 D3
If your budget is a little lower, the M-Audio BX5 D3 is an affordable yet high quality option. Boasting a 5" subwoofer and 1" tweeter, this monitor has produces an accurate sound with low distortion, particularly in the mid and high frequencies.
As a hip hop producer, you want a full low-end sound, and this is where the BX5 D3's do not perform as well as the other monitors on this list. However, at their price and size, this is to be expected, and they certainly represent a very high quality entry-level studio monitor.
Who has been spotted using M-Audio BX monitors?
Flying Lotus

J. Cole

DMO Deejay
6. PreSonus Eris E8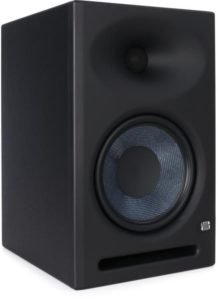 The PreSonus Eris E8 is a powerful studio monitor with highly rated bass reproduction at the 8" size. It has comprehensive frequency response tailoring options allowing you to customise your studio setup to your preference.
Overall the PreSonus Eris E8 is a capable speaker with a smooth sound across the frequency range, and comes equipped with plenty of connection options.
Who's been spotted using PreSonus Eris monitors?
Do I need studio monitors for producing hip hop?
If you are just starting out in your hip hop production journey you might just be using basic computer speakers or headphones, and that's fine. But very quickly, as you become more comfortable with your chosen software and the process, you'll find that neutral sounding studio monitors are imperative. There's no way you'll be able to control your output if you have speakers or headphones that are not designed to provide you with a 'true' representation of your input.
What are the key considerations when buying studio monitors?
Quality and frequency range – A high quality monitor will cover a wide frequency range without distortion (known as dynamic range). This is important for making hip hop beats, but also for producing other genres such as EDM, which can have a particularly diverse soundscape. Humans can generally hear between 20Hz and 20KHz, so ideally your setup should have a dynamic range near this minimum and maximum threshold. Realistically, you need to spend a lot and opt for large monitors with capable subwoofers to achieve this. However, for a home studio a dynamic range down to about 50Hz is definitely acceptable and fit for purpose.
Budget – You can spend a small fortune on studio monitors, and although price and quality generally correlate, you don't have to break the bank to get a pair of studio monitors that will help you achieve great sounding hip hop beats. Although it's completely down to you how much you are willing or can afford to spend, I do not recommend purchasing a super budget pair of monitors, as you simply won't get the audio quality required for making the bass-rich hip hop sound.
Size – This size of the speaker will of course have an impact on how much you pay, but a bigger speaker, and subsequently a bigger subwoofer, can give you a bigger and better quality sound. However, if you have a home studio setup, perhaps in your bedroom, I personally think there's no need to go big and this shouldn't really be your focus area – a 5" monitor should be fine.
What's the difference between studio monitors and speakers?
Whereas regular speakers enhance certain frequencies (such as the low-end) to boost the output of a sound (such as the bass), studio monitors aim to provide an accurate representation of an original recording i.e. a flat frequency response. As a music producer this is important, as you want your speakers to playback the true sound of your production, so you can make changes to enhance its quality and ensure it sounds good on any speaker. If you're using regular speakers when making beats, it's time to upgrade to studio monitors to take control of your mixes.
What else do I need to produce hip hop?
There are three core components of a home studio: a DAW, studio monitors and a midi controller. There are many DAWs out there and you can create awesome sounding hip hop with any functioning software. However, the most popular DAWs for hip hop production include Ableton, Logic Pro X and FL Studio. Midi controllers can be really powerful for improving your production workflow, as long as they function properly with your chosen DAW. We have compiled many guides such as the best midi controllers for Ableton and the best midi controllers for Logic Pro X.
*As an Amazon Associate I earn from qualifying purchases.