Studio monitors are an essential weapon in a music producer's arsenal. With bass being such an integral part of modern music, whether it be hip-hop, trap, house or any other type of electronic music, it's key that you have monitors that can do justice to the low frequencies. Otherwise, if you rely on bookshelf speakers, budget headphones or low quality monitors, you'll never have proper control of your output.
This article lists five studio monitors that are renowned for excellent low-end reproduction – ideal for creating bass-driven music, crafting detailed soundscapes or simply casual, heavy-hitting home listening.
Best studio monitors for bass – Overview
| | | | |
| --- | --- | --- | --- |
| | | | |
| | | | |
| | | | |
| | | | |
| | | | |
To understand the basic features you should look for when buying studio monitors, skip to the end of this article.
Best studio monitors for bass – Detailed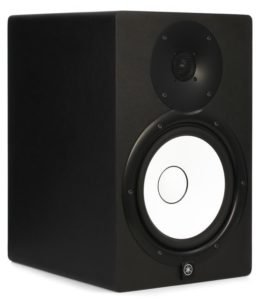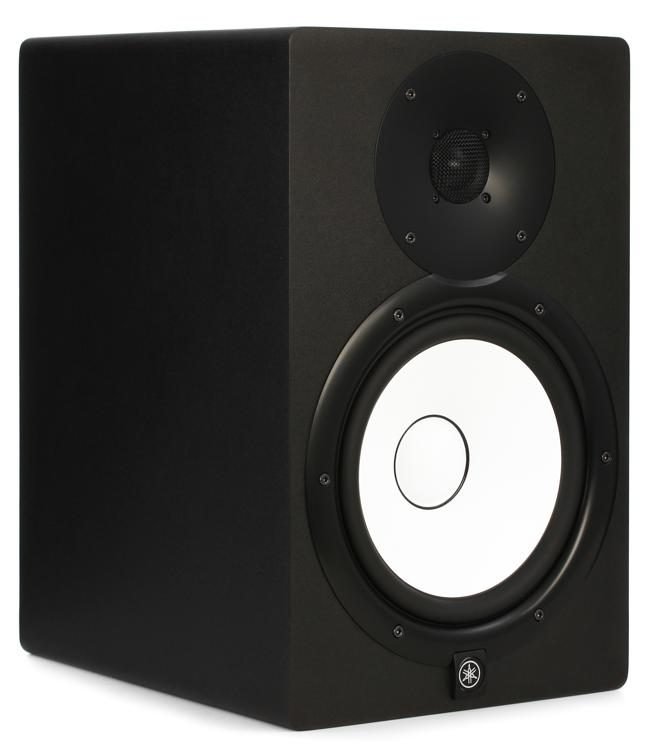 The Yamaha HS series is widely considered the best budget-friendly studio monitor option for home producers (arguably along with the KRK Rokits). This is because they are exceptionally flat in their frequency-response (i.e. accurate to the actual sound), including in the low frequencies – something a lot of monitors struggle with.
Being the largest of the series, the Yamaha HS8, with an 8″ LF woofer, produces the best bass response of the HS range. This also makes it an ideal monitor for larger studio spaces, with 120W of output power.
The popularity of the Yamaha HS8s is such that you'll find these monitors in home and professional studios everywhere, with artists such as Metro Boomin, Nick Mira, Sam Gellaitry and A-Track having been seen using them.
Mackie is another studio monitor manufacturer with years of experience in creating professional-grade equipment. The Mackie XR824, a monitor over twenty years in the making, is no exception. Similar to the Yamaha HS8, the Mackie XR824 boasts an 8″ LF woofer which provides an exceptionally clean, deep low end relative to other monitors at its price range.
This speaker has a wide frequency range of 36Hz to 22kHz, with a 1″ aluminium tweeter producing clear harmonics in the higher frequencies. Furthermore, the XR824s have controls to optimise their output according to the characteristics of your mixing environment, so you have complete command of your sound.
The Mackie 824 range of monitors have been used by artists such as Above & Beyond, Chase & Status and Basshunter – artists renowned for heavy bass-driven music.
The Focal Shape 65 doesn't just look amazing, it sounds amazing as well. Focal develop and design entire speakers, from drivers to cabinets, and are uncompromising on quality.
The Focal Shape 65 has a 6.5″ LF driver, but is very much designed for small acoustic spaces, e.g. home studios or small professional studio spaces. Across the frequency spectrum, including the low frequencies, this speaker has consistently been reviewed as outstanding by critics and users alike. The bass remains consistently tight, controlled and extended, in a way that monitors at the lower price ranges struggle with.
Some very well-respected artists such as France'e experimental house producer Darius and Grammy-nominated engineer Luca Pretolesi have been seen using Focal Shape monitors.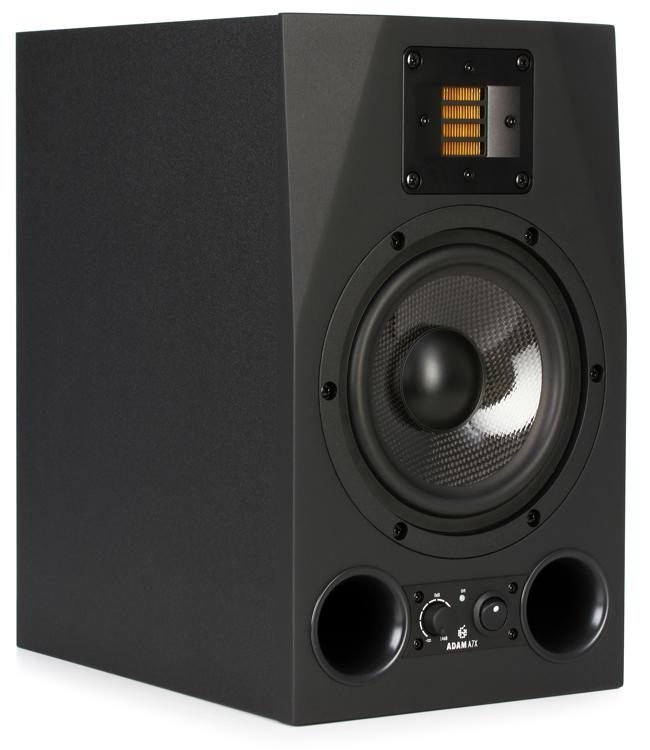 The Adam Audio A7X is an award-winning studio monitor that is consistently voted as one of the best options for producers looking to properly kit out their home studios. With excellent performance across the frequency spectrum, these speakers are up to the challenge of mixing down bass-led music.
With a 7″ LF woofer, it offers powerful and precise bass with very little compression. The frequency range is from 42Hz to 50KHz and allows for incredible control of the production process, given the detail and accuracy of their output.
A firm favourite with music producers across genres, Adam Audio A7Xs have been spotted in the studios of Disclosure, Chromeo, Alesso and Bonobo.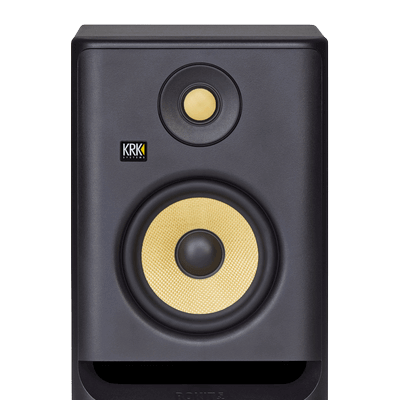 Likely the most recognisable studio monitors in this list, KRK Rokits are a staple of amateur and professional studios, DJ setups and casual listening speaker systems. This is because they are affordable, high quality and great-sounding in the low frequencies.
The KRK Rokit 5 G4s are the smallest speaker in the range with a 5″ LF woofer, making them also the most affordable option. For a smaller monitor, the G4s have an excellent frequency range of 43Hz to 40KHz and produce a warm, rich low-end. Given this emphasis on the bass, they do not produce as flat as a response compared to other monitors on this list. However, if you're planning to use monitors for both music production and DJing, this is ideal for a satisfying listening experience.
Rokits are a fixture of studios for bass-driven music producers globally, including Skrillex, KAYTRANADA, A-Track, JetsonMade and Dillon Francis.
What are the key considerations when buying studio monitors?
To simplify the purchase process, there are three key considerations when shopping for studio monitors:
Sound quality – You need monitors that are able to produce an accurate output across the human-detectable frequency range. With monitors that can not output accurately at certain frequencies (e.g. low bass frequencies) or monitors that distort or artificially emphasise certain frequencies, you won't be able to mix your tracks with confidence. When you pay more for studio monitors, generally you should get better accuracy across frequencies and at different levels of output.
Size – The size of a studio monitor is usually referring to the size of the low frequency woofer and the tweeter. For powerful bass and significant low frequency extension, typically you'll need a bigger LF woofer (e.g. 8″). Smaller 5″ monitors can offer good low frequency response, but to really hone in the low-end of your sound a larger monitor may be more suitable. If your studio is in a small room, 5″ monitors may be a viable option.
Budget – An obvious one, but you need to be clear and realistic in regards to how much you're willing to spend on studio monitors. There are fantastic monitors at the lower end of the price spectrum such as KRK Rokits or the Yamaha HS series. However, the more you spend, generally the more accurate your speakers will be. If you are on a lower budget and are serious about music production, do not be tempted to purchase standard bookshelf speakers, as you simply won't have the required control over your output.
What's the difference between studio monitors and normal speakers?
Normal speakers are designed to sound good, and to do so they often emphasise certain frequencies and alter the sound of an output. In many cases, it's the low frequencies or bass that is boosted. Studio monitors, on the other hand, are designed to represent a recording as accurately as possible. This is known as a flat frequency response. For music producers and engineers, being able to hear the 'honest' sound of an output is extremely important for addressing imperfections in mixes and having ultimate control of sounds.
*As an Amazon Associate I earn from qualifying purchases.