As a FL Studio user, whether you've just got started or you've become more comfortable with the DAW, a midi controller is a piece of equipment that will benefit your studio. Once your chosen controller is plugged in and mapped to FL Studio, you'll notice the improvements to your workflow straight away.
This article outlines reviews of the best midi controllers for FL Studio (formerly known as Fruity Loops) based on both critic and user reviews, as well as important factors to help decide on a controller that matches your specific requirements.
6 Best Midi Controllers for FL Studio (Overview)
61 velocity-sensitive keys

88 velocity-sensitive keys

Faders, buttons, pads & encoders

49 velocity-sensitive keys

49 velocity-sensitive keys

64 velocity-sensitive pads

25 velocity-sensitive keys
If you're unsure about what you should consider when purchasing a midi controller for FL Studio, or if you have any other queries around whether a midi controller is something worth investing in, skip to the Q&A section at the end of this article.
6 Best Midi Controllers for FL Studio (Detailed)
There is a wide array of midi controllers and keyboards on the market, ideal for music producers of any experience level. The below products are proven in their compatibility with FL Studio based on user and critic feedback.
The Novation Launchkey 61 was initially released in 2013, with the second generation hitting shelves in 2016 and this, the third version, coming out in 2020. As the name implies, the Launchkey 61 boasts 61 velocity sensitive keys, as well as 16 RGB backlit pads, eight knobs, nine sliders and modulation wheels. 
The third-generation Novation Launchkey 61 has features designed to help users without a music theory background. Its Scale Mode locks keys and pads to a selected scale, Chord Modes enable complex chords to be triggered with one finger and Strum mode allows you to strum chords, similar to how chords are played on a guitar. 
Whilst it is designed with Ableton Live in mind, it can be setup with FL Studio and its awesome range of features still function. However, if you want to dabble in other DAWs, the Launchkey 61 MK3 comes packaged with Ableton Live 10 Lite, plus several plugins and instruments.
The Nektar Impact LX88+ is a full-sized midi controller ideal for users with some piano-playing experience, but also complete beginners. Its 88 keys are semi-weighted and velocity-sensitive, plus it offers four velocity curve settings to suit your playing style.
As well as having seven octaves in reach, the Nektar Impact LX88+ is packed with a range of other controls. It includes nine faders, nine midi buttons, eight encoders and eight velocity-sensitive pads, all of which are custom programmable. However, if you don't want to manually setup the device, it has deep software integration with FL Studio, as well as all the other main DAWs, meaning it pre-maps to FL Studio's various transport, navigation, instrument and mixer controls.
Given it's a full-sized keyboard, the LX88+ is heavier than many other controllers but still surprisingly light, compact and portable given its size, weighing 18 lbs. And it's also surprisingly budget friendly, given how feature-rich it is and its seamless integration with FL Studio.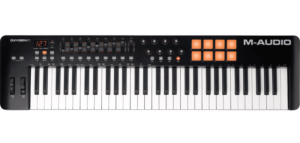 The Oxygen 49 IV is the more advanced version of M-Audio's Keystation controllers, with added functionality for more powerful control of FL Studio. As well as its 49 synth-action, velocity-sensitive keys, it has eight velocity-sensitive pads, eight knobs and nine faders which can be assigned to any control of your choosing within FL Studio.
M-Audio put a lot of focus on DAW integration and the Oxygen series of controllers is no exception to this. The Oxygen 49 IV comes with Directlink, M-Audio's own developed software that maps the controller to DAW functions and parameters. This means that the Oxygen 49 instantly maps to FL Studio upon connecting it to your computer.
If you're interested in software other than FL Studio, the Oxygen 49 IV comes bundled with Ableton Live Lite, Pro Tools First, SONiVOX's Twist (a virtual synth instrument), AIR Music Tech's Xpand 2 and Eighty-Eight, providing you with a range of future options to experiment with your sound and workflow.
French manufacturer Arturia's KeyLab Essential range is their stripped down, super affordable yet highly functional version of their core KeyLab offering. Along with 49 semi-weighted, velocity-sensitive keys (though note that the Essential range doesn't have aftertouch), the Essential 49 has nine encoders, nine faders, plus eight touch and pressure-sensitive pads at your fingertips.
The Essential range is compatible with all major DAWs, including FL Studio. For customised DAW mapping, including MPC style pad triggering in FL Studio, this video provides a great guide along with downloadable templates. 
Aesthetically, the KeyLab Essential 49 retains the look of Arturia's other controllers with rounded edges and an ivory-white finish, though it is noticeably light, weighing just 6.6 lbs, which is good news if portability is important to you. Overall it's a great budget, non 'mini' controller option for FL Studio.
The Akai Professional Fire is a midi controller that is custom-designed for FL Studio – in fact it's the only controller dedicated to FL Studio! And unlike other devices included in this list, the Akai Fire isn't a keyboard; it's a controller built to resemble the step sequencer part of FL Studio's Channel Rack.
It has 64 velocity-sensitive, RGB backlit pads that are arranged in four rows, as well as four assignable knobs and 20 function buttons, all of which are fully pre-mapped to FL Studio so you can play beats, notes and trigger effects incredibly easily. 
Overall the Akai Fire isn't as fully integrated as other DAW specific controllers such as the Ableton Push, but once setup it greatly improves your workflow in FL Studio, reducing time spent mouse-clicking.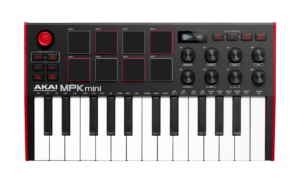 The Akai Professional MPK Mini range is probably the most recognisable set of midi controllers in the world. They have been popularised by minimalistic beat recreation videos on YouTube, such as this one.
However, aesthetics is not the only reason why the MPK Mini is so popular – as we have reviewed before, the MPK Mini range and more specifically, the MPK Mini MK3, is the most budget and beginner friendly midi controller for FL Studio or any major DAW for that matter.
The MKIII came out in 2020 and boasts 25 velocity-sensitive keys, eight MPC style pads, plus eight assignable knobs. As a 'mini' controller, it weighs just 1.65 lbs and can easily fit into a backpack and be used on the go. 
The Akai MPK Mini MK3 is fully compatible with FL Studio, just plug in and play (and make sure you have the drivers installed for the keyboard).
Do I need a midi controller to use FL Studio?
You do not, but once you're familiar with FL Studio, its interface and its functionality, you'll realise that a midi controller will hugely enhance your experience using the DAW. Most composers and producers prefer using hardware rather than entering midi notes and editing automation through a mouse, as it speeds up your workflow so much. Using a keyboard or pads to record melodies or drum patterns also ensures your sound doesn't lose its human feel, which often happens when you click in midi signals with a mouse.
What should I consider when purchasing a midi controller for FL Studio?
Bear in mind that everyone has a different idea as to what and how they plan to use their midi controller. For example, maybe you're an aspiring pianist and hope to record original melodies directly into FL Studio, or perhaps you're a touring artist looking to make beats on the go. The following factors are key when deciding which midi controller for FL Studio you should purchase.
DAW integration – nowadays a midi controller can only be considered a 'good' midi controller if it has integration with major DAWs, including FL Studio. Ideally you do not want to be manually assigning a device's controls to each function and instrument in FL Studio. It's much better to have plug and play compatibility or downloadable templates to rely on for a custom setup.
Size – your requirements with size depends on how and where you plan to use your midi controller. You may have a small home studio space so a large, 88 key controller may not be suitable, or you may plan to use FL Studio on the go, in which case you'll need a compact, lightweight device. On the flip side, if you're a pianist, a smaller midi keyboard probably won't be suitable as you'll have a limited range of octaves at your fingertips. 
Key weight – this relates to the amount of pressure it takes to depress a key (if you opt for a midi keyboard). Midi keyboards usually fit into three categories: synth-action, semi-weighted or hammer-action. Synth-action keys are light and very springy, mostly found on light-weight controllers that aren't for traditional piano playing. Semi-weighted is the most common key weight found on midi keyboards. This type of keys combine springs and weights to enable velocity-sensitivity without the need for more heavy-duty key hammers. Finally, hammer-action keyboards replicate traditional pianos and are best suited to trained pianists looking to imitate the feel of an actual piano. 
Range of controls – midi controllers usually have controls other than keys, such as pads, rotary knobs and faders. These controls can be mapped to functions and instruments in FL Studio, hugely improving your workflow. Some controllers, such as the Akai Professional Fire, are not modelled on traditional keyboards, rather devices such as sequencers or even guitars. Their controls are made up entirely of 'other' controls – not keyboard keys. 
Price – of course everyone has their own budget constraints and this will always be a key consideration when purchasing a midi controller for FL Studio. All of the above factors will have a direct impact on price. If your budget is on the tighter side, a smaller keyboard such as the Akai Pro MPK Mini MK3 may be a better option for you. 
How do I connect a midi controller to FL Studio?
You can easily organize your midi keyboard connections from the midi-device menu of FL studio. From there, you can enable or disable the midi channels or ports of your hardware. You can follow the steps below to allow each of your midi devices:
Select the

Options

menu from the top toolbar, then select

MIDI Settings

.

In the

MIDI Options

window, go to the

Input settings

section. Choose your midi controller and select

Enable

. If you notice the input categorized

USB Audio Device.

Moreover, make sure you enable that and modify the controller type to

Generic Controller.

Finally, press a pad or key to confirm receiving a midi signal.
What is aftertouch and do I need it for FL Studio?
Aftertouch is a midi message representing the pressure you apply to a key (or pad) when the key has been held down or sustained. It aims to replicate the actual behaviour and sound output of a piano when a midi keyboard is played. There are two types of aftertouch: channel aftertouch and polyphonic aftertouch. Channel aftertouch is when aftertouch messages are averaged across all keys being played. Polyphonic aftertouch is when aftertouch messages are specific to each key being played, so you're likely to have different messages being communicated for each key.
Should I buy a midi controller or a synthesizer?
A lot of beginners get confused with the difference between midi controllers and synthesizers. Whereas a midi controller doesn't produce any sound itself (instead it communicates midi signals to a computer or another midi-enabled device), a synthesizer creates sound which is usually communicated via midi. You could in theory use a synthesizer as a midi device, but it will lack many of the key features of a midi controller, such as FL Studio integration and control options.
What's the difference between FL Studio and Fruity Loops?
FL Studio was previously known as FruityLoops before 2003, but it was renamed after the threat of a lawsuit from Kellog's (yep, cereal). FL Studio is developed and licensed by Image-Line, a Belgian software company that also develops a range of virtual instruments, effects and DJ tools.
Who uses FL Studio for music production?
FL Studio is incredibly popular and over its 20 year+ life span it has been used to create music all over the world and across many genres, particularly hip-hop and EDM. Some big names who use FL Studio include:
9th Wonder

Afrojack

Boi-1da

Metro Boomin

Nick Mira

Pi'erre Bourne

Porter Robinson

Skrillex

Tyler the Creator
What alternatives are there for FL Studio?
There are many DAWs out there, some of the most popular being Ableton Live, Logic Pro X, Pro Tools, Cubase, Reaper, Reason and Studio One. FL Studio is arguably the most popular DAW in the world, due to its ease of use and accessibility (Image-Line have a policy of offering free updates for FL Studio since its initial release until present day).
*As an Amazon Associate I earn from qualifying purchases.