Reason has been around for over two decades and remains one of the most popular DAWs. Its unique studio emulation feel with rack mounts and cables has a special place in the hearts of music producers globally.
One of the best things you can do to improve your workflow and your overall experience of using Reason, is to invest in a high quality midi controller. There are many options out there, but not all midi devices are created equal. This lists collates the best midi controllers for Reason.
Best Midi Controllers for Reason (Overview)
| | | | |
| --- | --- | --- | --- |
| | | | |
| | | | |
| | | | |
| | | | |
For general information on what you should look for and consider when purchasing a midi controller, skip to the bottom of this article.
Best Midi Controllers for Reason (Detailed)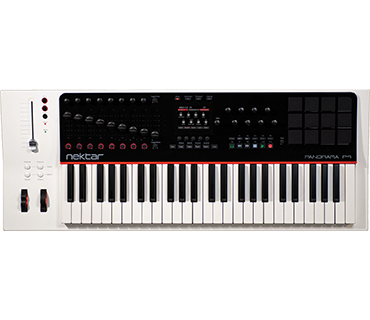 If you're looking for seamless DAW integration, the Nektar Panorama P4 is the best midi controller for Reason. In Nektar's own words: 'Panorama is the closest you get to operating Reason, as if its hardware.' Its automatic control assignments to Reason's instruments, such as ReDrum and Thor, will straight away speed up your workflow, allowing you to spend less time clicking and more time crafting.
As well as its 49 velocity sensitive keys, the P4 has twelve velocity and pressure sensitive pads, nine motorized faders and 16 rotary knobs in total, providing plenty of options for mapping parameters. Its 3.5″ color TFT display screen is high quality, unlike many other midi controllers, and keeps your focus on the keyboard rather than your computer screen.
It's worth noting, the Panorama P4 was originally designed solely principally for Reason, but it offers deep integration with other DAWs such as Logic, Cubase, Bitwig and Nuendo, so if you decide to dabble outside of Reason, Nektar has you covered.

Novation's SL MKIII is an amazing controller that works well with Reason. It's designed to be the centrepiece of your studio, with customisable mappings to both your DAW and external hardware such as synths.
Available in 49 key and 61 key versions, the SL MKIII range has semi-weighted, synth-style keys, plus 16 RGB backlit, velocity-sensitive pads and an array of assignable knobs, buttons and sliders.
One of the stand-out features of the Novation SL MKIII is its built-in eight track sequencer, which allows you to play notes step-by-step, as well as recording as you go. Along with its color LCD screens and software editor for creating your own custom mapping templates, the SL MKIII gives you absolute control of Reason without a click of your mouse.
This Arturia keyboard combines full-sized piano functionality, DAW compatibility and build quality, making it a great option if you're looking for a powerful, durable controller for Reason.
The KeyLab 88 MKII boasts a full-size, hammer action keybed which really replicates the feel of a piano. It also has 16 RGB backlit pads, a control bank with nine faders and nine rotary knobs, plus a small LCD display for navigating sounds.
As well as its integration with popular DAWs, Arturia's KeyLab 88 MKII comes bundled with some high quality software including Analog Lab and Ableton Live Lite, in case you fancy venturing outside of Reason.
We always recommend the Akai Professional MPK Mini range as a great budget, portable midi controller, and it can be setup to work well with Reason (see this video for a guide on setup).
Viral producer videos on YouTube have made it instantly recognisable, and that's largely down to it's simplicity. The MPK Mini MK3 has 25 velocity-sensitive keys, 8 backlit pads in the famous MPC style, 8 knobs to control parameters in Reason and a joystick that can be used to pitch modulation and modulation.
It weighs just 1.65lbs or 0.75kgs and connects to your computer via USB port, making it super portable and ideal for travelling producers. And of course, the Akai Professional MPK Mini range is really affordable and suited to beginner-level DAW software users looking to more easily take control of Reason.
Do I even need a midi controller for Reason?
Of course it's possible to use Reason (or any other DAW) and create great music without an external midi controller. But a midi controller can really speed up your workflow with mappings to Reason's instruments, settings and parameters. This allows you to spend less time clicking around Reason's interface and more time getting creative.
A midi keyboard is also ideal for live playing ideas, experimenting with progressions and quickly laying down these ideas in Reason. You could play chords or program drums on your computer keyboard, but it's only really possible to play one octave, without any variation in velocity, so you'll have to click around in Reason and manually edit your midi tracks to give your input a natural feel.
Overall, it's fine to use a DAW without a midi controller, but in most cases, as you get more comfortable with the software, you'll want to purchase a midi controller to improve your workflow.
What should I consider when purchasing a midi controller for Reason?
There are several factors to consider:
DAW compatibility
It's important that your midi controller can actually be setup easily to integrate with your DAW. A lot of leading controllers include deep integration to popular DAWs, and some controllers are even made with a particular DAW in mind. While Ableton Live and Logic Pro are given the most attention when it comes to integration, there are a few devices that are produced with Reason in mind, such as Nektar's Panorama P4. However, you might find with some midi controllers that the integration with Reason isn't quite as seamless and you'll need to do some custom mapping.
Size and weight
The size of midi controller you need depends on the number of keys you require (see the next point), the amount of space you have in your studio setup and whether you plan to be mobile and use your controller on the go. Most midi controllers are designed to be permanently setup in the studio, but some smaller controllers are created to be lightweight and easily moved about so you can travel about with a mini studio.
Number of keys
The number of keys – or indeed, whether you buy a controller with keys at all – depends on how you plan to use the device. For simple melodies or chord progressions, a smaller number of keys (say, up to 49 keys) will probably suffice. If you want to play more elaborate melodies, a keyboard with a large range is more suited, so you don't have to shift octaves up and down. If you don't plan on using keys at all, and would like to use a midi controller for things like drum programming or parameter automation, perhaps you don't need a keybed at all, although I think it's nice to always have the option.
Key weight
Most midi keyboards are semi-weighted, i.e. built with springs and weights to enable velocity-sensitivity without the same level of resistance as a hammer-action keyboard, which will suit most music producers. Other midi keyboards have fully-weighted keys that best replicate traditional acoustic pianos, something a trained pianist may look for in a keyboard. And some keyboards are synth-action, which offer extremely light and responsive keys.
Other controls
It's easy to focus on keys, but quality midi controllers have other controls as well. In fact, some devices are entirely comprised of pads or buttons. Controls such as velocity-sensitive pads are great for programming drums and rotary knobs can be mapped to parameters to, for instance, record EQ automation in your tracks. It depends what you intend to use your midi device for, but it's always good to have options.
Price
Everyone has a different budget to work with and all of the factors mentioned will have an impact on the price of a midi controller. If you're on a tighter budget and you're not a trained pianist, consider purchasing a smaller keyboard with less keys, which will likely have a smaller price-point. The Akai Professional MPK Mini, for example, really is a great, entry-level friendly controller that will make a big difference to your workflow, without taking up much space in your studio or breaking the bank.
Should I purchase a midi keyboard or a different type of controller?
There are many types of midi controllers available nowadays, not just midi keyboards. For most, and especially if you already have some experience of playing keyboards and want to play keys, a midi keyboard is a good option. Pretty much all midi keyboards come with a range of other controls as well, so you're not just limited to keys. Some producers opt for a non-keyboard style controller for the functionality (e.g. a pad or MPC style controller to use as a sampler), for the software integration (e.g. the Ableton Push) or simply for the look.
What's the difference between a midi controller and a synthesizer?
Simply put, a synthesizer creates sound, whereas a midi controller does not. Midi controllers send midi messages that a computer or hardware device can interpret to generate sound, but they do not themselves generate sound. Nearly all synthesizers can be used as a midi controller if they output midi signals, though it's preferable to use a dedicated midi controller in most cases for DAW integration and more suited input functions.
How do I connect a midi controller to my computer?
Nearly all midi controllers nowadays use USB to connect to your computer or laptop. Most devices also have other connection options such as Din-Midi I/O.
How do I connect a midi controller to Reason?
Once you have connected your midi controller to your computer or laptop and, if required, installed your chosen controller's interface and drivers, you can manage midi connections through Reason's Control Surfaces Preferences menu. Sound on Sound has a really comprehensive guide on different ways to setup midi controllers with Reason.
*As an Amazon Associate I earn from qualifying purchases.