A midi keyboard or controller is one of the most essential weapons in the armoury of a music producer. It allows you to naturally experiment, design and record ideas on the fly.
As with all hardware nowadays, there's a ton of options available to you from a range of manufacturers. Most midi keyboards or controllers will work fine with any of the main DAWs (if you're using a slightly more niche DAW, this isn't always the case though). There are, however, some keyboards that are manufactured with a particular DAW in mind, making them especially compatible. Being one of the leading DAWs, Ableton is no exception to this.
For more information about midi keyboards, terminology, what to look for and the options available to you, skip to the end of this article.
Best Midi Keyboards & Controllers for Ableton Live (Overview)
These keyboards (and controller) offer the best experience for Ableton users with a range of requirements:
Best Midi Keyboards & Controllers for Ableton Live (Detailed)
25 keys, velocity sensitive

MPC style pads, assignable control knobs

Super light and portable

Easy Ableton setup

Budget-friendly
The Akai Professional MPK Mini MKII is simply the best compact midi keyboard for Ableton (or any major DAW) available. It's an extremely popular model used by artists across all genres and it can be found all over YouTube in minimalist-style beat recreation videos, like this one,
The MPK Mini MKII is compact with 25 velocity sensitive keys and is extremely light-weight at 1.65lbs or 0.75kg. It has nostalgia-inducing MPC style pads that are also velocity sensitive, perfect for sequencing sample chops and drum samples like hip hop pioneers such as J Dilla.
The keyboard is really easy to setup with Ableton – it doesn't extra require drivers to connect to a Windows or Mac computer, so you can simply plugin the USB cable and you're good to go. All of the pads and knobs can be mapped to parameters using Ableton's midi map mode.
If you're a pianist this may not be the best keyboard for you (unless you're primarily looking for something portable) – the MPK Mini MKII has synth-action keys meaning there's not much weight behind each key like there is for conventional keyboards, plus it only has a range of two octaves at one time. However, if you're a beginner, an 'on-the-go' producer or looking for a solid keyboard to play basslines, simple chords and melodies, and program drums, this keyboard is an excellent option for Ableton users.
Who's been spotted using the Akai Professional MPK Mini MKII?
Skrillex

Zaytoven

Alison Wonderland
61 keys, velocity sensitive

Pads, knobs, sliders and modulation wheels

Ableton integration

Budget-friendly
The Launchkey 61 MKII is a great option for Ableton producers needing a larger keyboard for home studio use. Novation's Launchkey range is designed specifically with Ableton in mind. Right out of the box, it integrates with Ableton, its faders, knobs, buttons and pads automatically mapping themselves to Live's mixer, devices and clip launchers in both Session and Arrangement Views.
As well as 61 velocity sensitive, synth-action keys, the Launchkey 61 MKII has 16 RGB backlit pads, nine facers, eight knobs and pitch bend/modulation wheels. The Launchkey is also available in 25 key and 49 key versions, but it's the 61 key model that really stands out with a range suitable for playing complex melodies.
Novation's Launchkeys may not look quite as sleek as Akai's MPK controllers, but this keyboard is packed with controls, a nice range of keys, inexpensive and highly compatible with Ableton.
Who's been spotted using the Novation Launchkey series?
Sampha

Majid Jordan

Wilkinson
88 keys, velocity sensitive, fully-weighted

Fader, modulation wheels and pedal inputs

Bundled with software including Ableton Live Lite

Budget-friendly
The M-Audio Hammer 88 is aimed at those who play the piano or perhaps intend to play the piano, with a complete 88 fully-weighted keys covering 10 octaves. It offers a hyper realistic piano playing experience, with three pedal inputs for sustain, soft and expression included.
The Hammer 88 comes bundled with software and sounds, including DB-33, Velvet and Eight-Eight Ensemble. Notably it also comes with Ableton Live Lite, so just in case you don't already have Ableton, this could be a good option for you.
Apart from the keys, the Hammer 88 is a simple keyboard, void of pads, knobs and buttons, though it does include pitch bend/modulation wheels and a fader. It's not intended for those looking to use a midi keyboard to heavily input and control parameters in Ableton, but it's definitely ideal for piano players and comes at an affordable price point.
Who's been spotted using M-Audio keyboards?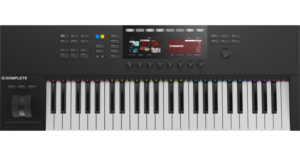 49 keys, velocity sensitive, semi-weighted

Control buttons, knobs, touch strip, modulation wheels

Dual high-res screens

Ableton integrated

Packaged with Native Instrument's leading software
The Komplete Kontrol S49 is the first midi keyboard developed by Native Instruments, one of the most prominent hardware and software manufacturers for DJs and producers. It has 49 velocity sensitive and semi-weighted keys, plus two high-res colour screens to visually display DAW parameters or browse sounds from integrated Native Instruments software.
Not only does this keyboard come pre-mapped to Ableton, it also fully integrates with Native Instruments industry-leading Komplete software such as the Massive and Monark synths. The S49 includes some awesome features that greatly aids those who do not have a music theory background, including a lighting system above the keys to highlight different scales and chords.
The only slight negative is that the Komplete Kontrol S49 MK2 doesn't have pads of sliders, unlike other less expensive keyboards on this list. But overall this keyboard is a professional-standard controller, with extremely well-designed keys, bundled with some of the best software on the market.
Who's been spotted using the Komplete Kontrol S49?
Deadmau5

Flume

Noah '40' Shebib
Controller with 8×8 grid of pads, velocity sensitive

Buttons, encoders, touch strip,

Advanced OLED colour display

Built specifically for Ableton
Okay, so it's not a keyboard. But this list had to include Ableton Push because it's made by and for Ableton, so it's completely integrated with the DAW. The Ableton Push 2 has a 8×8 grid of velocity sensitive pads that can be used to play drums and samples, or chords, melodies and bassline – you can use the pads as an unconventional keyboard.
The function of the pads changes depending on how you're using Ableton, for example whether you're in the session view, controlling a single midi instrument or using Simpler. But as you'd expect, the Push 2 offers complete control of Ableton with its pads, buttons, encoders touch strip and OLED display.
Even without these features and its deep Ableton integration, the Push 2 looks incredible and is simply a satisfying piece of kit to have in your studio. For more information on the Push 2, see Ableton's official product page.
Who's been spotted using the Ableton Push?
Flying Lotus

Timbaland

FKJ
What should you consider when buying a midi controller or keyboard?
1. Size of the keyboard
Whether you choose a compact (e.g. 25 keys) or full-size keyboard (88 keys) depends on:
Portability – do you intend to produce on the go or will your keyboard stay in your studio?

Number of keys required – see the next point

Other controls – if you want other features such as pads, faders this will increase the size of the equipment
What you need to be careful with when selecting a more compact keyboard is the key size. If the keys are too close together, this will make it difficult to play without making continuous mistakes. We've taken this into consideration and the general consensus across reviews for all of the keyboards on this list is that the keys are a good size.
2. Number of keys
The number of keys you need depends on how you plan to use your keyboard. If you're using a keyboard or controller for playing basslines, simple chord progressions or programming drums, it's unlikely you'll require a keyboard with a large range. However, if you plan to use hardware to play melodies, a keyboard with a larger range so you do not have to shift octaves up and down is probably more suitable. And obviously, the more keys, the larger and less portable the keyboard, so if you plan on producing on the go, less keys is more suitable.
3. Key weight
An acoustic piano is 'fully-weighted' – it's built with hammers and strings, so pressing the keys with varying force results in a softer or louder sound. Most midi keywords are 'semi-weighted' or 'synth-action'. Semi-weighted means they keys are built with springs and weights to replicate the feel of acoustic pianos and allow you to play at different velocities. Semi-weighted keyboards offer less resistance and are 'springier' than a conventional piano. Synth-action keyboards offer extremely light and responsive keys, much like an electric organ. For most producers, a semi-weighted or synth-action keyboard is suitable, unless you're a pianist looking to replicate the feel of an acoustic piano.
4. Extended controls and integration
As well as keys, many keyboards have additional controls such as pads, faders and knobs. These controls can be mapped to different features, parameters and controls within Ableton or your DAW of choice, massively extending your midi keyboards' power as an input device. For example, you may use pads to sequence sample chops with Simpler of Sampler, or knobs to automate audio effects in your arrangement. Certain keyboards and controllers are specially made with certain DAWs in mind, with many parameters already mapped to the device controls, an obvious example being the Ableton Push.
However, some people prefer to simply use their mouse to manipulate their DAW and only require a simple keyboard without extensive controls – it's simply down to what works for you during your creative process.
5. Price
Of course, everyone has a different budget to work with. All of the above points will directly impact the price of a midi keyboard, as well as the brand, build quality and software a keyboard may be bundled with. If you're on a tight budget, a smaller keyboard or a simpler keyboard without extensive controls may be more suitable for you. With that being said, it's definitely possible to get a high quality midi keyboard without shelling out a small fortune.
What is a midi keyboard?
A midi keyboard is essentially a digital keyboard designed to communicate with your computer and a Digital Audio Workstation (DAW) such as Ableton. There are no sounds built into a midi keyboard – it receives and transmits midi information to and from a computer. Midi (Musical Instrument Digital Interface) is a protocol that enables communication between computers, instruments and hardware. A midi keyboard gives instructions to your computer on how and when to output sound.
Midi keyboards are a type of midi controller. Midi controllers can come in all forms, for example, the Ableton Push does not have keys like a conventional keyboard, rather it's comprised primarily of pads, knobs and buttons to manipulate sound. Most midi controllers have a USB port so you can connect directly to a computer.
Do you need a midi keyboard?
It's a matter of preference, but for many a midi input device can improve the production process. A midi keyboard enables you to live play ideas, experiment and then quickly draft into Ableton or your DAW of choice. This can massively enhance creativity and your ability to introduce new ideas to your tracks.
In addition, using a midi keyboard can add a human feel to your music . Manually pencilling in midi for your chords, melodies or drums can result in a robotic sound if you do not edit the positioning and velocity of your input. It's the human imperfections that adds swing and interesting characteristics to music, making everyone's output unique.
You can use your computer or laptop keyboard to program drums or play chords and melodies, which can be really useful if you're making music on the go. However, the major issues with this are the limited range of your keyboard and the lack of key weight, meaning all of your output will be at the same velocity. This can sound unnatural, particularly for drums, so you'll need to manually edit the velocity of your output or apply a groove in Ableton.
Should you buy a midi keyboard or a different type of controller?
Nowadays midi controllers come in many shapes and sizes. If you already have some experience playing the piano or want to learn to play keys, a conventional midi keyboard may be a suitable option for you. If you want to use hardware to completely control Ableton by triggering sounds, sequencing audio and automating effects, a midi keyboard with extensive controls (aside from keys) or a midi controller (such as a pad or button based device) is a good option for you.
*As an Amazon Associate I earn from qualifying purchases.