Apple's Logic Pro X is a great piece of software for any musician. It has features that are designed to help beginners, as well as experts who want to get the most out their music production experience.
Adding a MIDI keyboard into the mix can take Logic Pro X to the next level, speeding up your workflow, helping you to focus on creativity rather spending time navigating your DAW.
There are a variety of features that you should pay attention to when shopping for a MIDI controller or keyboard. For example, the number of keys and type of key weight will impact how you can use a midi keyboard, as will its types of controls, such as knobs, faders and pads. Integration with your chosen DAW – Logic Pro X – is also extremely important. And of course, price; if you are just getting started on your music production journey or you're building out your home studio, you may not have a huge budget for a midi controller.
This list of the best midi controllers for Logic Pro X was collated by scouring through over 100 critic and user reviews to help you make an informed decision about expanding your home studio.
Best Midi Controllers for Logic Pro X (Overview)
| | | | |
| --- | --- | --- | --- |
| | | | |
| | | | |
| | | | |
| | | | |
| | | | |
For general information about what to consider when buying a midi controller, as well as Logic Pro setup information, skip further down this article.
Best Midi Controllers for Logic Pro X (Detailed)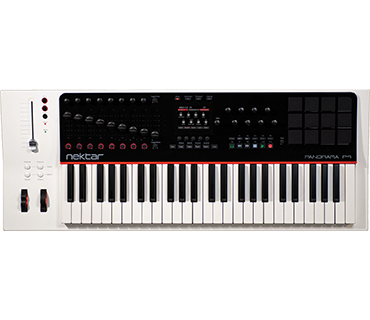 The Nektar Panorama P4 may be the most underrated midi controller on the market. It was originally built with Reason in mind, but it offers amazing integration across pretty much every major DAW out there, including, of course, Logic Pro X.
With four octaves of semi-weighted keys, twelve MPC style pads, nine motorized faders and 16 rotary knobs, the Panorama P4 is packed with features to give you complete control of Logic, whether it be programming drums in Step Sequencer or triggering effects with Remix FX.
Furthermore, the P4 has a hi-res screen which can be a really useful feature to get detailed feedback about your input, reducing your dependency on continuously referring to your computer screen and generally improving your workflow.
Despite being a relatively old keyboard (it was originally released back in 2012), the Nektar Panorama P4 remains an incredibly flexible controller, well up for the task of taking charge of Logic Pro.

The Novation Impulse 49 is another great option. It comes with a new version of Automap 4 Control Software, which integrates seamlessly with Logic Pro X as well as many other popular programs like Ableton or Pro Tools. This means that it will straight away map Logic to all of its controls, improving your workflow. One criticism of Novation's Automap software is that it's not quite as smooth in its setup for less popular DAWs such as Reaper, but users have consistently reported a seamless experience with Logic Pro X integration.
Speaking of controls, the Novation Impulse 49 has eight backlit pads, eight rotary encoders and nine sliders. And as you'd expect, 49 velocity sensitive, semi-weighted action keys with aftertouch (for information on key weight and aftertouch, skip further down this article).
Overall the Impulse 49 is a high quality yet cost effective option for any Logic Pro user.
The Arturia Keylab 88 MKII has a full-sized piano keybed, is built for durability and is compatible with Logic Pro X. Overall it's one of the most complete and powerful midi keyboards on the market.
It has 88 velocity sensitive, hammer-action keys and aftertouch, providing a piano-feel that other midi keyboards simply don't match. It also has 16 RGB backlit pads, nine customisable faders and nine rotary encoders, plus an LCD display screen to navigate the vast number of editable sounds that come with it.
The Keylab 88 MKII comes bundled with Analog Lab and Ableton Live Lite, in case you want to try out more instruments and interfaces (if you end up liking Ableton, we've also collated the best midi controllers for Ableton).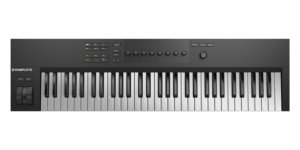 Known most widely for their DJ software and hardware, the Komplete Kontrol S61 was Native Instrument's first midi keyboard, and with the MKII they've definitely continued to live up to their reputation as manufacturers of high quality music equipment.
Along with deep Logic Pro X integration, the Komplete Kontrol S61 MKII has 61 velocity sensitive, semi-weighted keys, eight touch-sensitive knobs, plus two high-res color screens for browsing and previewing sounds.
As you'd expect, the S61 MKII fully integrates with Native Instrument's Massive and Monark plugins, as well as a ton of other third-party plugins that will extend the functionality of Logic Pro. It also has some really intuitive features for beginners, such as a lighting system that highlights scales and chords above the keybed.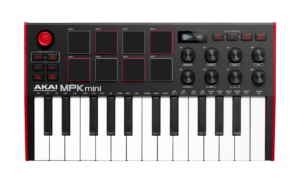 In my opinion, no list of recommended midi controllers is complete without a shout out of Akai's MPK Mini series. It is simply the best range of beginner-friendly, small and compact yet feature-rich midi keywords.
The latest MKIII version of Akai's most recognisable keyboard remains mini, with 25 velocity sensitive keys, eight backlit, MPC style pads and eight assignable knobs. And it also remains super lightweight, weighing just 1.65 lbs, making it an ideal controller for travelling music producers.
Along with instant Logic Pro integration, the MPK Mini MKIII comes packaged with nearly 2Gs of drum and percussion samples across four sample packs, as well as MPC beats, a beat making instrument that can be used as a plugin or standalone outside of a DAW, plus three instruments from AIR Music Technology
The Akai Professional MPK Mini MKII really is the Swiss army knife of midi controllers – compact, versatile and loved by Logic Pro beginners and professionals alike
Do I even need a midi controller for Logic Pro X?
You don't need a midi controller to make amazing sounds with Logic, but it definitely makes it easier. A fully mapped and assigned midi controller will help you take advantage of Logic Pro X's vast functionalities. You can use a computer keyboard to trigger functions, setup parameters and even play keys, and maybe this is a good option if you've literally just installed Logic and you're getting to grips with the software. But quickly you'll find clicking around or using computer keys is limiting both in terms of your workflow and your ability to play instruments. A midi controller and a good pair of studio monitors should be your first home studio purchases.
What should I consider when purchasing a midi controller for Reason?
There are a number of factors to consider:
Logic Pro X integration
Midi controller integration with a DAW is important because it will allow an easier workflow for crafting your sound. It can be super daunting and time-consuming if you have to manually map your controller when first using a controller. Fortunately, Logic Pro is possibly the most popular DAW in the world and many of today's leading hardware manufacturers developer controllers that have deep integration with it. For example, Novation have developed their Automap software that completely takes away the pain of manual setup.
Keys
There are a few factors to consider here, including the number of keys, overall size of your device and key weight.
The number of keys depends on what you plan to use your device for. If it's just simple chords or progressions a 49-key or less controller may suffice. A keyboard with more keys is ideal if you want to play more complex melodies; perhaps you're a more proficient keyboard player and you don't want to have to shift up or down an octave when composing.
Of course, the number of keys your device has will impact both its overall size and weight. This is an important consideration if you have limited home studio space or if you like to move around a lot and travel with your studio gear.
Key weight is also important. Most midi keyboards are either semi-weighted or synth-action. Semi-weighted keys are built with springs and weights to enable velocity sensitivity, replicating to some extent the feel of a piano. Synth-action keys on the other hand are extremely light and responsive, meaning they can work well for playing certain types of instruments other than the piano. Hammer-weighted keys have the same hammer mechanisms as real-life pianos and piano players tend to much prefer this. For beginner Logic Pro producers with no or little piano playing experience, semi-weighted keys are often a good start point.
Alternatively, you may opt for a controller that doesn't even have keys, particularly if you plan to use a device for programming drums.
Range of controls
Midi controllers come in all shapes and sizes, and are rarely solely comprised of keys. Controls such as pads, sliders, knobs or buttons can help you experiment and develop your output. For example, velocity pads are great for programming drums and rotary knobs can be mapped as parameters which will allow you record automation in tracks – it all depends on what you want from a controller.
Price
Your budget is of course a key factor when looking for a midi controller for Logic Pro X. If you're just getting started with making music in Logic maybe you don't want to spend a huge amount and that's completely understandable. But you definitely don't want to skimp and buy a device from a non-specialised manufacturer or buy an ancient, second-hand controller that lacks auto-mapping functionality. All of the controllers included in this list are from highly respected manufacturers, suited to Logic and represent decent value.
What is aftertouch?
Aftertouch is a feature that many modern-day keyboards have. It transmits data about how much pressure is applied to a key or pad after a note has been played, when you hold down or sustain it. This results in a more realistic sound, mimicking a real-life piano. There are two types of aftertouch: channel, which sends an average message across all keys being played; and polyphonic, which sends unique messages for every key being played.
Should I buy a midi controller or a synthesizer?
Midi controllers and synthesizers are different machines. A midi controller doesn't produce sound itself – it sends messages to your computer about when and how to play or manipulate a sound. It is designed to be a control panel for software or another midi enabled instrument. A synthesizer produces sound itself and can sometimes output midi signals. It is possible to use a synthesizer as a midi controller, but they're not typically designed for this so they do not offer features such as deep Logic integration or additional controls.
How do I connect a midi controller to Logic Pro X?
Most modern midi controllers send and receive MIDI messages through USB, so they don't require another piece of hardware called an audio interface. Once you've connected your controller, you may need to install a driver on your computer by following the manufacturers instructions. Straight away Logic Pro X should recognise your device and the keys and controls should be functional. You can change the setting for each connected device in Logic Pro > Control Surfaces > Preferences > MIDI Controllers.
Can I use an iPad to control Logic Pro X?
Yes, you can use an iPad with Logic Pro X. There are several third-party apps on the App Store, such as Logic Remote, that can hook up to Logic and allow you to, for instance, play Logic instruments, trigger recordings and control faders while mixing. An iPad of course doesn't have the same functionality as a high quality midi controller, but it can be a fun way to remotely control Logic.
I have a Windows PC – what other DAWs can I use a midi controller with?
If you are a Windows 10 user (or a later version of Windows), Logic Pro X isn't an option for you. However, there are many Windows friendly DAWs such as Ableton, Cubase, FL Studio and Reaper. We have collated guides such as the best midi controllers for Reaper and the best midi controllers for Ableton to help you build out your studio.
*As an Amazon Associate I earn from qualifying purchases.