Reaper is a seriously underrated DAW. Not only is it super affordable, it's highly customisable and has powerful functionality to match the more mainstream popularized DAWs like Pro Tools, Ableton and Logic Pro.
Pairing it with a high quality midi controller will help you get the most out of Reaper. This article aims to help you find a controller suited to Reaper as well as your requirements.
Best midi controllers for Reaper – Overview
| | | | |
| --- | --- | --- | --- |
| | | | |
| | | | |
| | | | |
| | | | |
For higher-level information such as what to consider when buying a midi controller and setting up a midi controller with Reaper, skip further down this article.
Best midi controller for Reaper – Detailed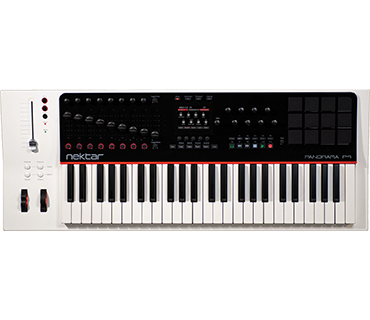 Nektar focus on creating high functioning midi controllers with deep integration for a range of popular DAWs, including Reaper. The Panorama P4 is a great example of this. Its software integrates nicely with Reaper's instruments and effects, with automatic mapping that can be easily customised and easy installation.
The P4 comes with 49 semi-weighted, velocity-sensitive keys, but there's also a 61 key version – the P6 – if you'd like another octave at your fingertips. They both come with aftertouch to provide piano-like responsiveness to key pressure. The P4 has twelve pads, nine faders, a bigger motorized slider (trust me, a really nice touch that gives a pro studio feel), ten assignable buttons and 16 encoders, providing lots of real-time control options.
Despite being an older keyboard (it was originally released back in 2012), the Nektar Panorama P4 still holds it own and really is a definitive midi control for Reaper.

I've included another Nektar keyboard on this list because Nektar really does have excellent integration with Reaper. The Impact LX88+ is a larger keyboard with 88 keys, for those with the preference and studio space to accommodate a full-size keybed. Again, like the P4, the Impact LX88+ is a USB midi keyboard that has easy setup with Reaper – no frustrating, manual configuration, just extensive DAW control straight after installation.
As well as its 88 semi-weighted keys, the LX88+ has eight velocity-sensitive pads, nine faders and nine LED buttons, along with pitch bend and modulation wheels. All controls are fully programmable to send midi messages to Reaper, other DAWs and software, and midi-enabled hardware.
Overall the Impact LX88+ is a good full-size keyboard alternative to the P4 that has the same Reaper compatibility. I don't think there's an 88 key controller on the market at a comparable price-point with better native DAW integration. If you're looking for a smaller controller, there are 25, 49 and 61 key versions in the LX range that generally come in below the price-point of the Panorama range.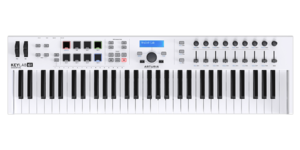 Arturia is notorious for creating really durable keyboards and the KeyLab Essential 61 is a great example of this. It is designed to be the command centre of your studio, whilst also offering the build quality required for live performances and touring. And built with compatibility at its core, the KeyLab Essential 61 works well with Reaper.
With 61 velocity-sensitive keys, the KeyLab Essential 61 is a simpler, more friendly-budget version of Arturia's heavyweight keyboards, but with a lot of great functionality retained. It has eight backlit pads, nine faders and nine knobs – all assignable to Reaper's various functions.
The KeyLab Essential 61 also comes bundled with some really high quality software, such as Analog Lab for vintage keyboard sounds and Ableton Live Lite, if you fancy dabbling outside of Reaper. This combination of hardware and software makes Arturia's KeyLab Essential range one of the best options for a budget-friendly midi controller.
For a mini midi keyboard that offers simplicity, portability and pleasing aesthetics (subjective I know, but MPK Minis are all over YouTube for a reason!), you'll do well to find a better option than the Akai MPK Mini MK3.
The MK3 was released in 2020 and has the same underlying features of its predecessors: 25 velocity-sensitive keys with aftertouch, eight backlit pads, eight assignable knobs and a thumbstick for for pitch and modulation control. The MK3 builds upon earlier models with a new generation keybed that offers more responsiveness, upgraded pads and 360 degree knobs rather than knobs with restricted movement, giving you more freedom.
Overall the Akai MPK Mini MK3 is in my opinion the best mini midi controller for Reaper or any other DAW for that matter. Just plug it in via USB, install its drivers and enable it in Reaper's midi devices settings to get going.
What is a midi controller?
A midi controller is a physical interface that sends and receives midi signals between a computer or midi-enabled instrument. Midi (Musical Instrument Digital Interface) is a protocol developed in the 80s that allows musical instruments, computers and other devices to communicate. Think of midi as commonly understood messages about how to manipulate sounds, e.g. 'note on', 'note off', 'pitch up', 'pitch bend' etc. A midi controller is a device for triggering these messages.
Do I need a midi controller to use Reaper?
In short – no. A midi controller doesn't extend the functionality of Reaper. Rather, a midi controller improves your ability to take advantage of Reaper's functionality (or any other DAW's functionality). It will improve your workflow, allowing you to focus on creating, as opposed to navigation Reaper's interface. If you're just getting started with Reaper, I wouldn't worry too much about purchasing a midi controller – it's best to focus on understanding the application and figuring out if it's the right DAW for you. As you become familiar with Reaper and music production, a midi controller should probably be the first addition to your setup, along with a decent pair of studio monitors, as your start to take production more seriously.
What should I consider when buying a midi controller for Reaper?
There are several factors you should keep in mind:
Reaper integration
It's important that your controller can be setup and used with Reaper, ideally with limited manual configuration. Some leading midi controller manufacturers offer deep integration with Reaper, while others can be setup with relative ease. Nowadays it's usually Ableton (check out our guide on best midi controllers for Ableton) and Logic Pro that get most of the attention by manufacturers building a controller around a DAW. But Nektar in particular build controllers that can easily integrate with Reaper, such as the Panorama P4 and the Impact LX49+, as well as other DAWs such as Reason.
Type of midi controller
Many people see the terms 'midi controller' and 'midi keyboard' as interchangeable, but not all controllers are piano-style keyboards. Midi controllers can come in many shapes and forms, such as drum pad machines, guitars and wind instruments (all with varying suitability as DAW 'master stations'). What will work best for you depends on what you're likely to be using it for. In most cases a midi keyboard will be a good option, as many of the leading devices come with a range of controls in addition to keys, such as pad, faders, rotary knobs and buttons.
Size of midi controller
There's a few factors here. First, where do you plan to use your midi controller? Most people aren't fortunate to have a big, dedicated studio space, so it's important to consider how your controller will slot into the space you have available. Also, many people like to take their gear with them as they travel so they can get creative wherever they are. A more compact, lightweight midi controller is more suitable if this is your plan.
The second point to consider is, if you're buying a midi keyboard, how many keys do you want? This of course will have a big impact on the overall size of the controller and how much space you'll need in your studio (or in your rucksack if you make music on the go!). For many, 49 keys is a good number, enabling you to play chord progressions and melodies. If you're a trained pianist you may consider a full-size 88 key device if you want to play elaborate pieces without shifting up and down octaves. For ultra portable controllers or something nice and simple, a 25 key controller may suffice.
Key weight
Again, if you're buying a midi keyboard, you'll want to consider key weight, i.e. the amount of pressure it takes to depress a key. Many keyboards are semi-weighted – built with springs and weights to enable velocity sensitivity – and this is a good option for most producers. Some keyboards have synth-action keys which are very light and super springy, ideal for playing fast leads and producer's looking for a lightweight keyboard with less of an emphasis on 'playing the piano'. Hammer-action (or fully weighted) midi keyboards aim to replicate a traditional piano with and usually have the full-sized 88 keys. This may be a good option for trained pianists.
Price
Your budget of course is a major factor to consider when purchasing a midi controller for Reaper. If you're just getting started with Reaper, you're not from a pianist background or you're looking for something to use on the go, a budget-friendly mini controller such as the Akai Pro MPK Mini is a good option. On the other hand, if you're a power Reaper user or looking for a long-term centre piece of your studio setup, it's probably worth investing a bit more on a controller that has all of the functionality that you need.
Should I buy a midi controller or a synthesizer?
A midi controller typically does not produce any sound itself, rather it sends midi instructions to a computer or another device about how to play or manipulate a sound. Synthesizers, on the other hand, create sound and can typically output midi signals. Given this, it's feasible to use a synthesizer as a midi controller, but purpose-built midi controllers are usually much more up for the task, due to factors such as DAW integration and their range of inputs.
How do I connect a midi controller to Reaper?
First you'll need to connect your midi controller to your computer or laptop, either with a midi in and out connection (likely via an audio interface) or with a USB connection which is more common nowadays. Make sure you've installed any drivers necessary with your chosen controller. In Reaper, open the Preferences menu, go to Midi Devices under Audio, where your controller should appear. Make sure your device is enabled and apply settings. This is a really handy tutorial to walk you through the steps as well as how to configure and test your device in Reaper.
What is aftertouch?
Aftertouch is a common feature of many high quality, modern midi keyboards. Aftertouch is midi data transmitted about the amount of pressure applied to a key (or pad) after the key has been played, when it's being held down or sustained. This results in an output more akin to playing a traditional instrument. There are two types of aftertouch: channel aftertouch and polyphonic aftertouch. Channel aftertouch transmits aftertouch messages that are averaged across all keys being played, whereas polyphonic aftertouch is specific to each key, i.e. different messages are communicated for each key being played.
*As an Amazon Associate I earn from qualifying purchases.