Open-back studio headphones are extremely useful during the mixing and mastering processes. Their open design prevents the build up of pressure within the headphones which often impacts the sound quality of closed-back headphones. This enables a wider soundstage and a flatter frequency response, making open-back headphones ideal as a secondary reference to your studio monitors.
With an array of manufacturers and models to choose from, this article collates the best open-back studio headphones by aggregating critic and user reviews from over 45 sources.
Best Open-back Studio Headphones – Overview
| | | | |
| --- | --- | --- | --- |
| | | | |
| | | | |
| | | | |
| | | | |
| | | | |
For general advice on purchasing open-back studio headphones, skip to the bottom of this article.
Best Open-back Studio Headphones – Detailed
The Sennheiser HD 650 has a high reputation and is a staple of both home studios and professional studios. This is because of its neutral, clear and detailed sound across the frequency spectrum. Unlike consumer headphones or many other studio cans, it does not boost the low frequencies or sound harsh in the highs. The HD 650's high build quality results in minimal distortion and remarkable clarity, ideal for audio editing, mixing, mastering and critical listening.
It lacks slightly in the sub-bass frequencies, but this is to be expected for any headphone – using a pair of high quality studio monitors, perhaps with a subwoofer, is recommended for really honing in on sub-bass.
Crucially, its large, velour earpads and lightweight design makes the HD 650 very comfortable to wear, even for extended studio sessions. It comes with a detachable, 3m long cable and adapter to enable connection to devices with both 6.35mm / 1/4″ and 3.5mm jack plugs.
Overall, the Sennheiser HD 650 offers real value and is an excellent open-back headphone option for your studio.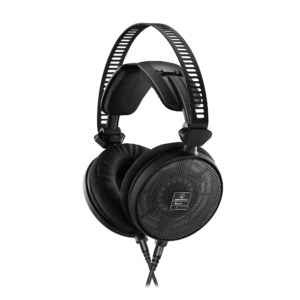 Audio-Technica is renowned for its professional reference headphones, so it's kind of surprising that the ATH-R70x is their first ever open-back design pair of cans for the studio. Similar to their closed-back headphones, the ATH-R70x is great value. However, as open-back headphones built for critical listening tasks, it offers a much more accurate, natural sound compared to some of Audio-Technica's flagship closed-back ranges.
Relative to the Sennheiser HD 650, the ATH-R70x boosts the high frequencies slightly, though does a great job at remaining neutral across most of the frequency range, while harmonic distortion is kept to a minimum.
As well as its impressive sonic performance, Audio-Technica clearly focused on creating a comfortable pair of cans for prolonged use. The ATH-R70x is extremely lightweight at just 210g and its wing support design, instead of a continuous padded headband, results in less cover of the head. It has a 3m long cable which is detachable and L/R signal independent to ensure proper studio orientation regardless of how you plug the cable into each side of the earphones.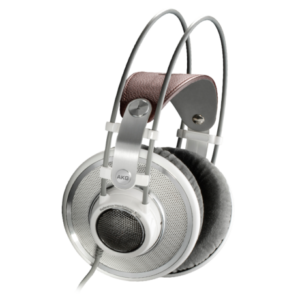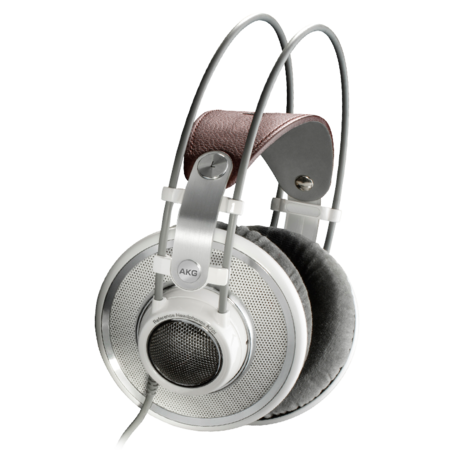 These AKG headphones are frequently praised by critics and users due to their build quality, wide soundstage and flat frequency response. The AKG K701 offers clarity and neutrality across the frequency spectrum (with exception to the lower frequencies, which to be fair, all headphones fall down on), plus an immersive soundstage that lets you fine-tune panning and mixing of each individual element of your production.
Weighing just 235g, the K701 is lightweight and cited by most users as comfortable due to its light resistance, headband adjustment mechanism and airy, 3D-form ear pads. Unlike many other alternatives, it does not have a detachable cable, so if you need compact headphones for portability, it might not be the best option for you.
The AKG K701 is often overlooked in favour of Sennheiser, Audio-Technica or Beyerdynamic open-back headphones, but it really offers great value, durability and sound imaging.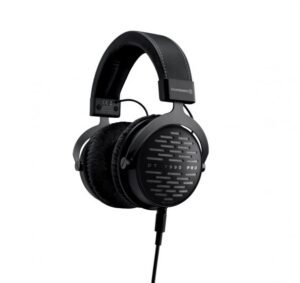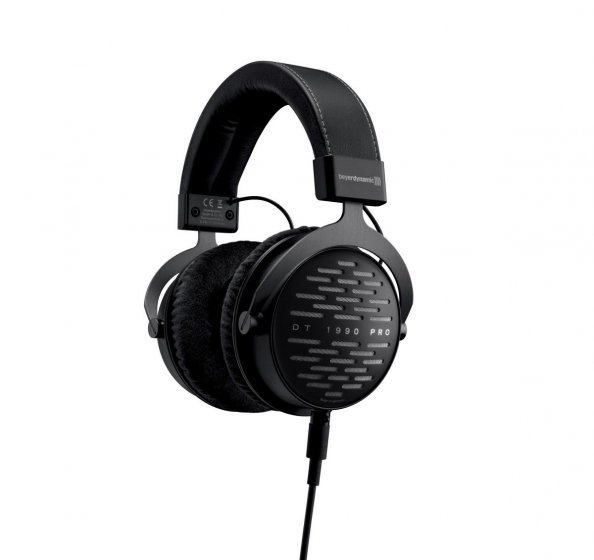 The DT 1990 Pro is like the earlier DT 990, but with more clarity, better high frequency performance and a bigger soundstage – essentially a step up in every department. In particular, its bass performance shines through thanks to Beyerdynamic's Tesla design technology which has transformed their new ranges of headphones.
It comes with two sets of earpads: one designed for a neutral response, another for a slightly boosted bass. The boosted bass earpads are preinstalled, so you'll want to switch over to the neutral earpads for studio use, but it's nice to have both options for when you'd like to bring the bass forward and have some fun.
Many people associate German-made products with high build quality and these Beyerdynamic headphones are no exception. They're extremely durable and really have a premium look, with their matte black metal material and aluminium end pieces. And Beyerdynamic have nailed the balance between a sturdy construction and comfortable design – the earpads are made from memory foam and wrapped in velour for a soft, easy to wear listening experience.
All of this makes the DT 1990 Pro a solid addition to your mixing and mastering process, and your studio.
Shure's SRH1440 is a great open-back designed option for your studio. It has an excellent, revealing sound, particularly in the mids and highs, where it sounds bright, crisp and detailed. The low frequencies are warm yet neutral, without the exaggeration that is typical of consumer cans and budget studio headphones.
The SRH1440 maybe isn't as aesthetically pleasing as other headphones on this list, though everyone has their personal preference when it comes to looks. In terms of comfort, it's lightweight, free of excessive pressure from the earpads and includes a sufficiently padded headband for prolonged use. It also has a detachable cable and replaceable earpads for extra durability. It's a mid-range studio headphone that is up to the task of professional studio listening and often priced below many of its rivals.
If you're also looking for studio monitors, we've curated lists to match your requirements, such as the best studio monitor for bass and the best studio monitors for small rooms.
Do I need open-back or closed-back studio headphones?
Open-back headphones are ideal for mixing, mastering and critical listening. Their open earcup design allows air to flow in and out, generally resulting in superior sound quality without the build up of pressure inside the headphones. However, unlike closed-back headphones, open-back headphones offer little to no isolation. For tasks such as recording, where it's imperative that you avoid sound leakage, closed-back headphones are more suitable. For the same reason, if you plan to use your headphones outside of the studio, on the go, closed-back headphones are the better option for you.
Do I even need studio headphones?
Headphones can be a really valuable addition to your studio. First, particularly in the case of open-back headphones, they can act as a secondary reference to your studio monitors. The acoustics from studio monitors can be affected by characteristics of the room they're in or by their configuration, so it's handy to have a high quality pair of headphones to give you confidence in your sound.
Studio headphones also allow you to be creative without the noise of studio monitors – most people have neighbours and don't have a dedicated, sound insulated studio space, so 2am sessions aren't always possible.
In the case of closed-back headphones, they're great for recording audio without sound leakage and for music production on the go because they're lightweight and offer sound isolation.
A lot of people use regular, consumer headphones in the studio and that's fine. They can be handy for quick, rough recordings and checking to see how your mastered tracks sound in the 'real world'. But they can't be used for anything that requires precision and accuracy, as they're not designed to have a flat frequency response.
Can I use wireless headphones in the studio?
Wireless headphones are the norm for today's consumer headphones, but there are very few wireless studio headphones. This is because you want zero or minimal latency, especially when recording. There will always be a level of latency with Bluetooth connected headphones.
There are some wireless studio headphones out there that attempt to minimise latency, but they didn't make it on this list. As open-back headphones aren't designed for use outside of the studio or private space due to their lack of isolation, wires shouldn't be a huge hindrance. A good pair of studio headphones will have a long cable so you can move about freely.
*As an Amazon Associate I earn from qualifying purchases.