If you're serious about producing EDM, studio headphones should be one of your earliest investments. Headphones are one of the most frequently used items in music studios. They can be key for a close-up assessment of your mix, fine-tuning the low-end and identifying imperfections that may have gone undetected with loudspeakers. Headphones are also a great option if you're an EDM producer on the move, requiring a highly portable setup. Or perhaps your studio is limited in size and space, meaning you have to make do with limited monitors (coincidentally, if you're looking for studio monitors for EDM production, we've also got you covered).
Currently using Beats or Airpods to make EDM? They simply won't cut it. Professional studio headphones, unlike consumer headphones, are designed to have a flat frequency response, meaning they aim to replicate a sound accurately and do not accentuate certain frequencies (like the bass). This is vital for music production, especially EDM production, where you need to hear your 'honest' sound so you can address any imperfections in your mix. EDM tends to be sonically diverse and complex across the frequency range, so you need headphones that can stand up to the test.
The below list of studio headphones for EDM producers was compiled by scouring critics and user reviews, taking into consideration quality, comfort and cost-efficiency.
Best headphones for EDM production – Overview
| | | | |
| --- | --- | --- | --- |
| | | | |
| | | | |
| | | | |
| | | | |
| | | | |
Best headphones for EDM production – Detailed
Once declared the 'first internet famous headphones', Audio-Technica's ATH-M50x headphones can be found in home studios and professional studios globally. They're trusted by heavyweight EDM producers such as Kygo and Alison Wonderland.
All for good reason. The Audio-Technica ATH-M50xs are closed-back headphones with a neutral sound, accurate bass response and relatively broad soundstage, designed precisely for music studio application. They come with three detachable cables – a 3m straight cable, up to 3m coiled cable and 1.2m straight cable, giving you flexibility in your studio space. With their collapsible design and durable earpads and headband, the ATH-M50xs can be worn for extended studio sessions without discomfort.
Plus, they're exceptionally good value for money – for your first pair of studio headphones, you probably won't go wrong with ATH-M50xs!
Beyerdynamic manufacture awesome studio gear and the DT 1770 Pro headphones are a great example of this. The low-end frequency response of these headphones is particularly impressive, which is of course really important for producing EDM.
In terms of sound quality, these cans provide a really detailed, accurate output across the audible spectrum that is essential for professional studio use. For closed-back headphones, the width of the soundstage (the replication of the width, depth and height of the sound output) is extremely impressive and a feature critics have consistently praised Beyerdynamic for.
Like the ATH-M50x, the DT 1770 Pros come with detachable cables, both straight and coiled, plus a durable hardcase. They're also ideal for long studio sessions, with the padded headband offering comfort for extended time periods.
In terms of price, these headphones are at the high-end due to the excellent sound and build quality on offer.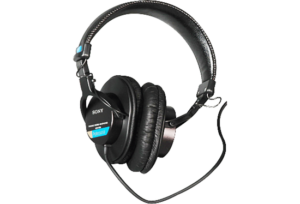 The Sony MDR range is also considered an industry standard and is a very popular choice for EDM producers and music producers generally, given their reliable sound and affordability.
The MDR-7506s offer accurate, detailed and relatively neutral sound, with the mid frequencies particularly clean and impressively natural. Perhaps compared to other cans on this list, they do not provide the same punchiness in the lower frequencies, but again, the MDR-7506s come at a really competitive price point.
These closed-back headphones have a smart, folding design and are lightweight, making them ideal for producers on the move. Sony have also made it easy to repair the MDR-7506s should the worst happen, with spare parts easily available and clear disassembly and reassembly information included within their spec sheet.
Unlike other headphones on this list, the Sennheiser HD 650s are open-back headphones. This means the earcups are open and allow air and sound to flow freely, compared to closed-back cans, which aim for isolation and blocking sound from entering or leaking out. For the HD 650s, this means they offer an exceptionally natural, spacious sound.
The Sennheiser HD 650s are up there as one of the most neutral headphones available, making them ideal for mixing down and mastering your EDM tracks. Below 100Hz they perhaps lack performance compared to some closed-back cans on the market, but used in conjunction with a solid studio monitor setup, they're really up to the task of honing in on the low-mid to high frequencies.
As well as offering sound quality that would please even seasoned audio engineers, the HD 650s have been consistently reviewed as comfortable headphones to wear for extended periods.
The Shure SRH1440s are another pair of open-back headphones that are at a slightly more accessible price point, whilst still offering great sound quality.
The SRH1440s are bright and detailed in the high frequencies, and well-bodied but neutral in the low frequencies. As open-back cans, they sound natural, with a wide sound stage that provides real depth and clarity.
These headphones are bigger than most, though their design and headband padding makes them really comfortable, ideal for those long studio sessions. They're also designed for durability, with replaceable velour ear pads, detachable cables and a sturdy design.
Also looking to invest in studio monitors? Check out our guide on the best studio monitors for producing EDM.
Do I need to buy studio headphones?
While headphones are not imperative for a studio setup, there are several reasons why they can be extremely useful and sometimes vital:
Mixing and mastering – studio monitors are susceptible to the acoustics of a room. If you're not confident of your studio room treatment or speaker calibration, headphones are a great 'second source of truth' for the mixing and mastering processes, giving you the ability to hone in on certain sounds and frequencies

Minimise noise interference – external noise from housemates or neighbours can be really frustrating, especially when you're ironing out the details in your mix. Headphones (specifically closed-back headphones) help you shut out external noise and focus on your audio output

Reduce your noise – on the flip-side, most people have housemates or neighbours to consider, so searching your sample bank for the perfect snare or mixing your synths at 2am might not be appreciated. Headphones give you the freedom of 24/7 EDM production

Recording – if you want to lay down vocals or live instrumentals on a track, headphones are a must. The performer needs to be able to hear the existing track but you need to be able to record their output without any other sounds (from your monitors) interfering with the recording

Portability – headphones can be taken anywhere as they're lightweight and compact. This gives you the freedom to record your ideas wherever you are
Can I used normal headphones for EDM production?
Normal, for-consumer headphones are designed for an enjoyable listening experience. This means they often add tones, boost or suppress certain frequencies. On the other hand, studio headphones are designed for an honest listening experience. This means they aim to playback audio exactly as it has been inputted. For this reason, studio headphones, rather than normal headphones, should be used for precise audio recording, mixing or mastering.
However, normal headphones can definitely be used for recording and listening. They commonly have more features than studio headphones, such as wireless, Bluetooth connection and noise cancellation, making them convenient for rough, on-the-go recording. Also, it's always a good idea to check and test your mixes on a variety of different output devices, including normal, consumer headphones.
Do I need closed-back or open-back headphones?
Closed-back headphones have ear cups that are completely closed. This makes them ideal for sound isolation (shutting out external noise and preventing sound from leaking), though sound quality can be impeded by pressure build up inside the headphone. Closed-back headphones are suitable if you need to counter a noisy studio environment, like to make EDM on the go or need to record audio without any interference.
Open-back headphones have ear cups that are open, allowing audio to flow in and out. This usually yields better sound quality (a flatter frequency response, wider soundstage and separation between instruments and frequencies), but means they're not designed for sound isolation or noise cancellation. If you're buying headphones primarily as a 'secondary source of truth' for mixing and mastering, open-back headphones are a better option for you.
*As an Amazon Associate I earn from qualifying purchases.